Grief makes us uncomfortable. We expect the bereaved to pop a Prozac and move on—dive into volunteer work, organize a 5K, start a foundation —or at least get back to normal. Except that sometimes Grief has other ideas, keeping mourners locked in its grip for months or years and changing them profoundly.
Say His Name: A Mother's Grief is the true story of Susan Robinson's deep, prolonged grief after the accidental death of her sixteen-year-old son Collin. Susan chronicles five grim days in the hospital as the family hoped and prayed Collin would recover. She provides an intimate look into how death ravaged her family and lays open her own despair and paralysis, revealing heartbreaking firsts and grief tornadoes that strike at will.
A multigenre format interjects light moments and even humor amid the pain, and the outpouring of kindness and support from the family's loved ones and community are inspirational. And you'll fall in love with the captivating boy who was taken too soon.
Reviews for Say HIs Name: A Mother's Grief
The book is amazing. Like,
take my breath away at times, amazing. It was raw and real.
I felt a part of your family. --Thomasine B.
I'm sitting here feeling like I'm standing in that hospital with you, and everything you're saying is exactly what I would have done or said or felt...I've fallen in love with Collin's heart every step of the way... I can already tell that your words are going to bring comfort to countless people. I couldn't stop reading last night, it is so so good.
--Munchie C.
WOW. I read until 330 this am. Then just finished the final chapter now. I felt you as you sat there with him. I felt my own heart wanting him to live because as a mom you do not want THIS for your child. Then the aftermath... Susan you captured death...grief... soullessness....and self exploration...self examination...in the raw...the peeled away raw ...no other way to put it.
--Penny R.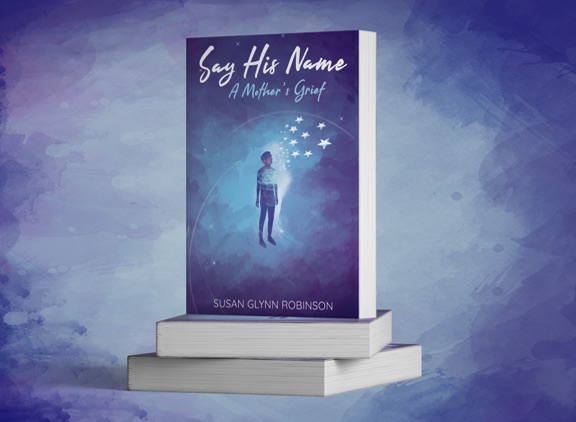 Most of all, if you can't step around the grief monster lounging in your living room, Say His Name: A Mother's Grief will reassure you that you are not alone—or abnormal. As you follow Susan's quest to understand why children die and what happens after death, you will examine your own faith and develop your own explanations for life's unanswerable questions